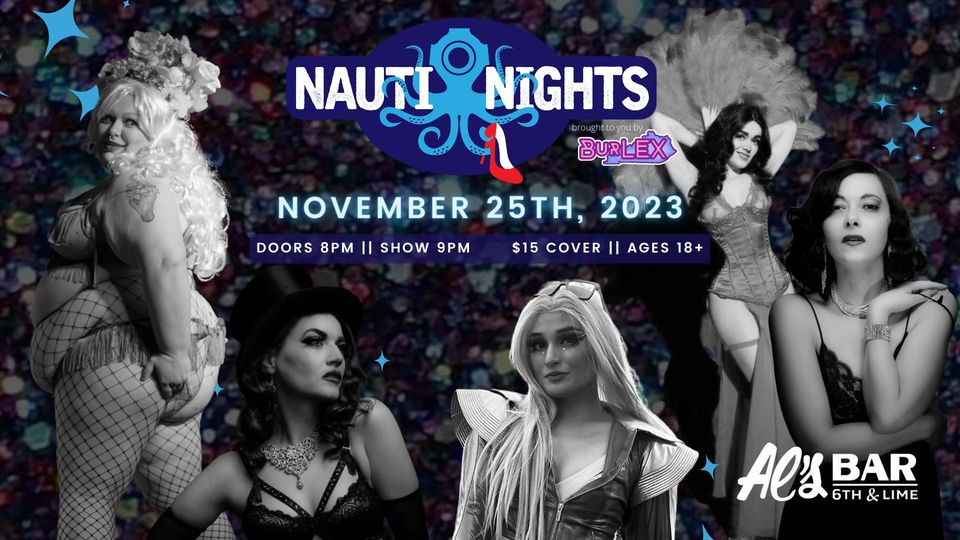 BurLEX presents Nauti Nights Burlesque Revue
Al's Bar
601 North Limestone, Lexington, Kentucky 40508
Saturday, November 25th
8:00pm - 11:00pm EST
Admission Fee: $15 cash or card
NAUTI NIGHTS:
DOORS: 8PM
SHOW: 9PM
COVER: $15 (cash or card at the door)
18+
Step on down to the TWENTY-FOURTH Nauti Nights, but our FIRST at Al's Bar!
CAST
Aurora Maur
Kit Bordeaux
Lily Datura
Miss Beverly Blanc
Tik Tak (Hoe)
Tip Runner: Mick Diavol
Stage Kitten: Bourbon Decay
Emcee(s): Träshique
Once a month, BurLEX brings you a variety of talents to the Al's Bar stage!
Bring your tipping dollars and your loudest cheers for Lexington, Kentucky's longest-running monthly burlesque evening of tease!
BurLEX(ington) was founded and is operated by Träshique and is a collaborative community collective based in the art form of burlesque in Lexington, Kentucky.
OUR MISSION:
Bringing our community together on a local & regional level through burlesque & adjacent art forms.
To teach empowerment, intentionality, and consent to our students, audiences, and local community through partnerships that communicate this tone.
Creating bonds and pathways between the region to elevate the art of burlesque and support our regional established groups and performers.